Rooted in tradition and inspired by life's Journey
Grimson & Son's forges jewelry that connects and resonates with your personal style and vision.
Our Story
The History of Grimson & Sons
Grimson & Sons, Vancouver's oldest original manufacturer of fine jewelry since 1945. Located in the historical Rogers Building, we continue the tradition of creating handmade, bespoke jewelry and offering trusted, quality repairs for your priceless heirloom pieces and one-of-a-kind jewelry.
Grimson & Sons' work has adorned celebrities, politicians, as well as local and international clients. We continue to design and forge bespoke jewelry, utilizing hand-crafted and modern techniques, using only the finest ethically sourced materials.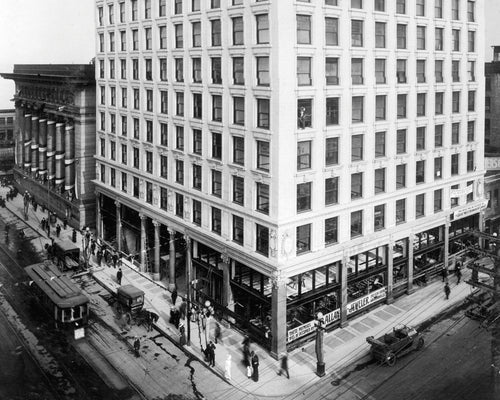 Production
The Atelier [Workshop]
Drawing on four solid generations of experience, each piece we create at Grimson & Sons is one-of-a-kind and built with the most exquisite materials and traditional craftsmanship. 
Our deep understanding of modern and classic techniques sets us apart from our peers. Every piece we create expresses the vision and craft that brings it to it's unique form. We use traditional methods and only the finest materials and ethically sourced, conflict-free stones – our designs are exclusive and one-of-a-kind, with a collaborative and intimate process that creates a story for each piece.
The Atelier [workshop] is by appointment only, Monday to Saturday.
#430 - 470 Granville St. Vancouver, BC V6C 1V5
604.683.1840
info@grimsonandsons.com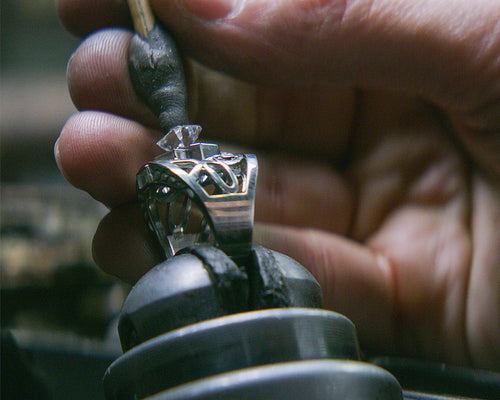 Retail
The Boutique
Our Boutique is located street-level in the same building as our Atelier [Workshop]. We offer our clients and visitors a personal and intimate experience, and consider our Boutique as an extension of the creativity in our Atelier brand. 
All of our staff are highly trained and able to assist in any design or industry related questions. Our comfortable atmosphere welcomes children and pets, and we encourage family and friends to share the experience with you, all within in safe, socially distanced best practices.
Walk-ins are welcome within the business hours listed below.
The Boutique also accepts in-store and virtual appointments made in advance outside of usual business hours.

Monday | By Appointment Only
Tuesday - Saturday | 10AM - 6PM
Sunday | Closed
474 Granville St. Vancouver, BC V6C 1V4
604.423.5945
boutique@grimsonandsons.com